A practical manual for defining your vision
I will either find a way or make one!
/Hannibal/
Maybe you've met those strange birds – people with long-term visions, well-defined goals, and specific steps for their accomplishment.
But what if you are still in search of your direction? Isn't this an extremely hard task – finding out exactly what you want?
Actually, it is just the other way around. You will find out how easy it could be to set and reach your dreams, even if you currently don't have any vision whatsoever.
If you find yourself insecure and confused, stay with us: we will help to put you back on track.
Start from scratch: do you know what you want?
This can't be argued:
It is quite easy when you know what you want. Like when you can easily imagine your life in 25 years from now in each of its main areas. If you have a vision, it provides clarity, confidence, and focus. It also helps you make the right choice day in, day out. Which means that you are on course.
No matter how bold your dream might seem to be, it is achievable nevertheless. You just need to implement the fitting strategy and to make multiple small steps, side by side with your goal buddy.
OK, but what if you don't know what you want? Which way do you go, when you are clueless about the final destination? Sure, in some aspects you might know well. Others though might be quite tricky.
You are not the only one.
In fact, the vast majority of our modern society spends years and years wandering, searching for their "true selves" and what they want to do. The reason is probably rooted in the enormous pool of opportunities, in the contemporary lifestyle and its new dynamics. Many of today's youngsters struggle to decide which "their thing" is, bound to make them happy.
Deep inside, everyone knows what they want to do.
Or at least they knew as kids. In childhood, the mind is clear and open. The only thing that matters is the happiness each activity brings. But you are not a kid anymore, and let's face it – you are not getting any younger! So we suggest you don't wait any longer. Roll up your sleeves!
Take a minute for self-reflection.
Review the statements below. Does your current status match any of them?
If you find yourself in times of dissatisfaction with how things are going;
If you are professionally tied up to some occupation which doesn't feel like yours;
If simply something is missing.
Sounds familiar? If so, then it's probably a good idea to rethink your situation and change your approach. Read on to figure out how to deal with it all.
What you need in order to succeed
You need two things: clarity and actions!
The Holy Grail of accomplishments is first – to have clarity, and second – to take actions.
Well, easier said than done! But how to gain insight into your life's true calling? Maybe you are thinking of: sitting down like the Rodin's sculpture "The Thinker", or you are interpreting your dreams, or even reading tarot cards…
It's clear – no clarity here. In that case start off with the actions and everything will clear up.
Yes, you got it right! Our experience shows that sometimes the most effective way to find the path is simply to go.
Do an experiment
Maybe you have some idea of your vision, or maybe you have no idea whatsoever. Either way, one thing is for sure – without trying, you will never figure it out.
This is how it's done:
First, make up your mind what's the best thing you can do, based on your past experience, knowledge, and common sense. This will help you define your field of action.
Then, gear up with all available resources and just go for it. This is the only way to get to know your obstacles and opportunities and see if things will work out.
A straightforward example is the one for the career choice. Pick what makes you happy now. Not what seems glamorous or promising, because no one knows what "promising" will be in just few years.
Decide today:
What are you good at and interested in? Is it hand-making scented candles and you want to become an artisan? Great! Go ahead and don't worry that you are an engineer! It will soon be obvious whether you will make this your new career and conquer the market… Or it should remain in the hobby zone – then you will have to give away the scented candles to your neighbors.
"90 days" is the golden standard
With or without vision, the only approach is: setting goals for one quarter.
Set the first 90-day action goal and work on it. Three months later you will positively be able to assess whether your direction is right, or you need to adjust it, or maybe even make the first U-turn. So, for a couple of 90-day periods, you will refine your long-term vision. Later it will need no more editing – it will simply guide you.
Bear in mind,
A long-term (25-year) vision is not carved in stone. It may change, and especially in the beginning, it may do so drastically.
After all, the purpose of the lifelong aspiration is to provide guidance. It is based on your current knowledge, contacts, worldview, interests, and capabilities. You change and evolve over time, so it is perfectly normal for your dreams to do so as well.
Vision and happiness?
Don't do it. Don't define your long-term target in this fashion: "Be happy". This will lead you nowhere. Too general you see.
What we mean here is to ask yourself what makes you happy and let it be your first cornerstone.
You don't know what will bring you joy in 25 years? Neither do we! Go and work on what delights you today. Better kick off and later change the course, rather than do nothing at all. Even if your action steps are in the wrong direction, you will certainly learn some lessons and will advance as you do so.
You will probably say:
"Hold on, shouldn't the vision statement be long-term?" Answering it right away: not necessarily. If the long period is holding you back, then try and shorten it! Build a 5-year vision. And then, the next year, when things seem clearer, make it for 10, 15 or 25 years. This doesn't matter. What matters is to get on the road and then discover if it makes you happy.
The Circle of Life
If you are anything like us, you probably imagine being the best version of yourself when it comes to what is important to you in life. But how can you know what to focus on?
Try a simple exercise, called "The Circle of Life". It will facilitate your appraisal of which areas you want to improve. Thus it will help you define your priorities and have a starting point.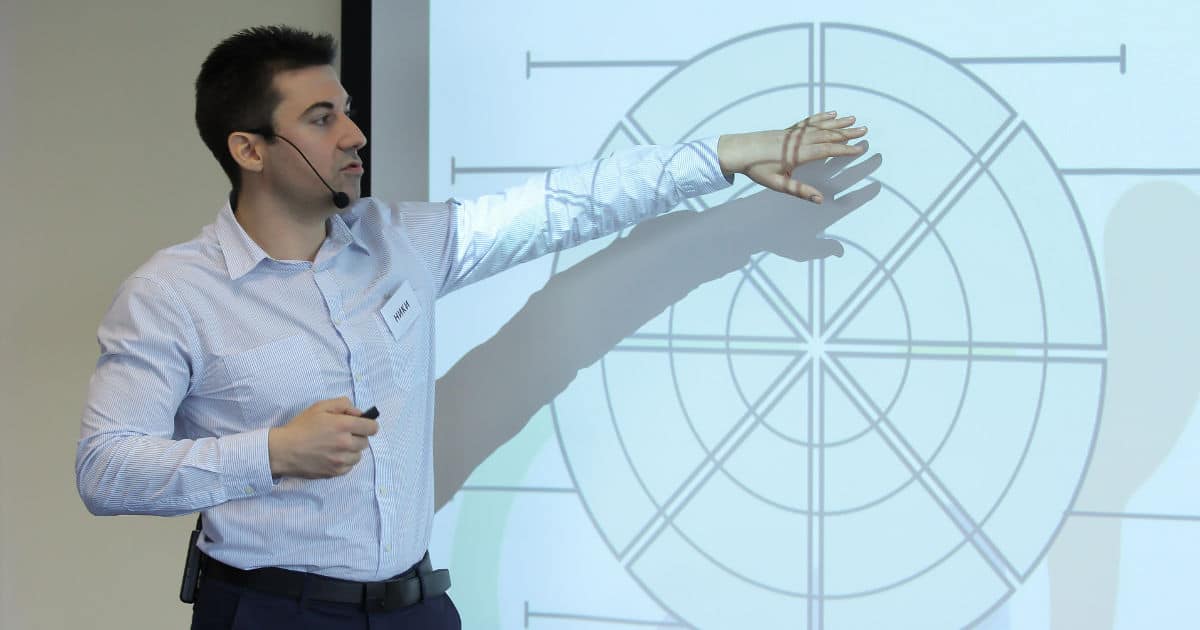 Here it is:
Draw a circle and its radiuses – one for each part of your of life that you need to build a vision for. Give them a scale from 1 to 5. Then rate them based on your current sense of satisfaction.
It is useful to practice this at least once a year. You will find it interesting to witness how your point of view unfolds over the course of the years.
And which life aspects require a vision?
Did you notice that much of your life can make it in the "Circle of Life"? It all comes down to priorities. Amongst them, you can have visions for health, family, friends, fun, hobby, finances, career (we prefer the term "mission"), spiritual self-improvement, etc. However, we believe that some are of key importance. Indispensable? Not really. Still, everybody would benefit from having these visions and from working out strategies for their implementation.
Here they are:
Vision for health
Can't lie – health is the base we step on to achieve everything else in life. When one is not healthy, nothing else matters – and, frankly, nothing else is possible.
As mentioned above, vision may change over time. Interestingly, this applies even to your health though, at first sight, it is quite unambiguous.
For instance, at the age of 20 when we are all "immortal", your dream might be something like "to get a six-pack". But at 35 it may already be "to be healthy and in perfect shape for all things I hold dear". At 55 it probably is "not to get ill"… And at 75 – "not to rely on medications or assistance in my everyday life".
Makes sense? Well, then don't shy away from correcting and adapting your vision to the ever-changing circumstances.
Vision for family, relationships, fun
Man is a social animal, that's why his relations to others have an immense impact on his quality of life. So having a clear idea of this is important.
Let's have a look how different people formulate it differently! For instance – some find a family as their core virtue, hence their vision is family-oriented. For others, it leans towards relationships or friendships. And there are those who cherish quality time with the loved ones.
Moreover, a particular lifetime goal – say the one for the family – may include different elements: family car, a larger house, or family vacations.
Vision for money/ finances
Maybe talking about money makes you uncomfortable? Nevertheless, finances play a key role in modern social life. Apart from health and family, all other aspects are, to say the least related – if not even dependent on our finances.
Actually, you will need money even if you plan on doing something seemingly quite unrelated to it. Like, when you have this noble idea of helping others, usually some expenses are required.
The vision for finance is one of those with a domino effect on other life spheres. In brief: money is part of life. It is good to have a plan for financial independence, which, in turn, will be helpful to the rest of your accomplishments.
Vision for career
Or as we call it "mission". Whichever word you prefer, we hope that all you've read here will serve you as guiding light.
And last, we've come across with something interesting. Sometimes vision for mission and for personal development may overlap. Like when your mission is beneficial to both yourself and the society. Too good to be true?
But it's real and we are the living proof! In "Goal Buddy" our mission is to help as many people as possible to meet their dreams, to have fun in the meantime and to live a more fulfilled life. Working on a project of social significance, we develop ourselves as well as others. That's what we call a great vision!
We truly hope this topic gave you the initial momentum. In the next one, we are going to share some specific examples of visions in various life areas. Till then, why don't you try the "Circle of Life" exercise? Outline the life aspects you may start off improving today. Good luck and see you soon!