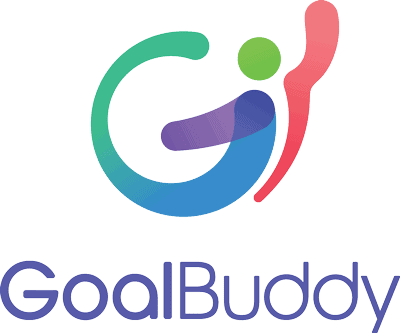 Warning 1! This is an advanced goal setting guide. It's not a 5-minute read. It requires time, but if you can invest the time, you will learn amazing lifelong skill – the skill to set and achieve your goals.
Warning 2! There is a real danger that this system will help you to achieve your goals, dreams and be successful! But we found out that much more people have a fear of success that a fear of failure. If you're not ready for success, we don't recommend reading further.
We discovered a goal setting system so powerful, we decided it would be a shame to keep it only for us.
Thus, we decided to share our system with the world.
It was not initially planned to share this system. We created it for ourselves because we needed it.
We are just two guys with big dreams. Our journey started about 10 years ago. Initially on our own then we combined our efforts and support. We researched, tested and finally put together the pieces of the Goalbuddy system.
So, here it is – a time-tested system for setting goals in 7 easy to replicate steps.
The Quick Start Guide
If you follow the full system, it is inevitable to achieve goals that may seem impossible now.
But if you are short on time and you just want to start as soon as possible, check out our Goal Buddy Quick Start Guide and if you find the process valuable, bookmark this page and come back for the details and the full system.
Why did we create this goal setting guide?
We created this guide because we could not find a full blown system. We found only parts of the goal setting process and … a gazillion useless generic articles what SMART goals are. And strangely enough most of them were even giving bad advice.
For example, smart goals are not smart if they are one-year goals. This is a huge mistake that contributes to goal failure. If goals are specific and actionable they should be limited to 90 days (we will clarify later why this limit).
We must warn you, goals can boost your confidence like nothing else, but also can ruin your confidence if you don't know what you are doing. Our advice is that it's better to not set goals, instead of setting goals and failing to achieve them.
I.e. if you have no system and set goals on your own like a "weight loss goal" and then fail multiple times to achieve this goal. This may prove to yourself that "goals don't work" and worse… this could ruin your self-confidence and you will set limiting beliefs that prevent you from living your dreams.
That's why we highly recommend reading a proven guide like this one.
So, this is a 7 steps process that gives you:
Clarity – what you want from life and why you want it
Confidence that you are good enough to reach these goals
Motivation to jump out of bed full of energy
If you are still not convinced that goal setting makes sense, read our full article on why set goals.
Before you start exploring the 7 steps process it is best to download and print the goal setting templates.
Please, bear in mind that this takes time. You don't suddenly find clarity for 5min. If you've never set goals, this can take a whole day. But this would be one of the best days this year.
Step 1: The Confidence Fuel tank
If you have confidence, you can achieve anything
During the first step of the goals setting process, we will travel with the time machine.
Firstly, we go to the past, to discover our success in the past and recharge our "goal setting fuel tank". You don't even want to start with an empty fuel tank.
And only then we will go to the future to see what it looks like when our goals are reached.
You might be tempted to skip this step and go straight to setting your future goals. Don't do this, you will be starting on a 500 mile trip with an almost empty fuel tank.
So, the first step is the confidence fuel tank. We will look at what worked for you in the past (everybody has successes), why it worked, how you can build on your successes and how to recharge your confidence fuel tank, so you have enough energy to go far into the future.
Take me to the tools from step 1

Step 2: The True Goals Discovery Process
Once you have refueled your confidence tank, it's time to go on a "little" discovery trip. And yes, this actually may be the most fun part of the whole process.
And since you can't just "list your goals", you will have to discover them first, because sometimes they are not quite obvious.
In this step, you will dream, imagine and create your desired future. This is like a brainstorming session.
Here we have multiple exercises that help us look at our dreams from different angles. Later on, we will choose from these ideas and will combine the pieces in actionable and specific goals, but during these exercises, imagine that
You have all the resources you need (e.g. time, money, people, etc.);
You can reach any goal;
You have no limitations.

Take me to the tools from step 2
Step 3: The What I Want Manifesto
Ask and it shall be given to you.
The Bible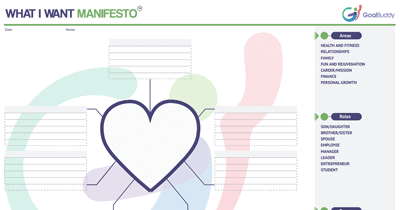 Looking at your life from different angles and dreaming was quite fun, wasn't it? Now it's time to find what's really important to you and answer one fundamental question:
What do you want?
As simple as this question sounds, it's not an easy one for most of the people.
But not for you. From the previous exercises, you have all the raw materials NT: that you can to put together and create your Manifesto. This is the Manifesto to declare what you want for your life.
The idea behind this is that if you have clarity on what you want and what your direction NT: in life is, then the "how" part gets much easier. The challenge is that most people constantly switch directions and make no progress at all.
Your Manifesto will guide you like a lighthouse.

Take me to the tools from step 3
Step 4: The Vision Game Plan
Vision without action is merely a dream. Action without vision just passes the time. Vision with action can change the world.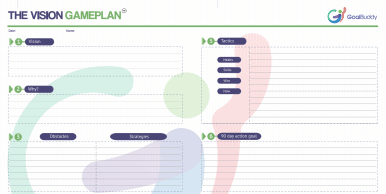 During this step, we take on goal by goal and create a short term action plan i.e. a 90-day action goal.
Firstly, we examine the limiting beliefs that prevent us from Achieving this goal.
Then we will analyze the obstacles that may prevent you from achieving this goal and the strategies to overcome these obstacles.
We will answer very important questions like:
What? – What do you want to achieve specifically?
Why? – Why do you want it? (Your motivation)
Who? – Is there anybody how has the resources to help you achieve your goal faster
How? – What is the action plan

Take me to the tools from step 4
Step 5: The 90-day Activity Focus
Success is the sum of small efforts – repeated day in and day out.
Robert Collier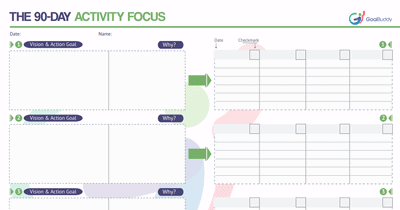 After we have our 90-day action goals, now we need to take small steps regularly towards achieving them.
This step is an easy one. Just list all your action goals for this quarter and write only one next action.
Remember, you don't have to map out the whole plan, you only need the first small step to get started. Tip: make it an easy one.

Take me to the tools from step 5
Step 6: Setup The GoalBuddy Support System
To achieve your goals, the most important step is setting up a goals support system.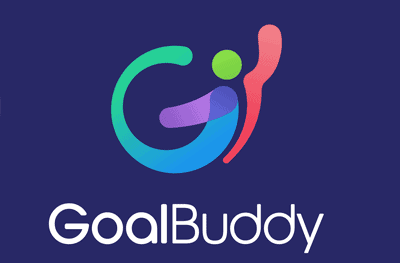 Congratulations! With steps 1-5  you finished the goal setting part.
Now it's time to do one of the most important things if you want to be successful in achieving your goals and following your dreams a system to support you.
Some studies suggest that 94% of people fail their goals just two weeks after setting them. This is because they don't have a support system to get them back on track.
But you can have one!
Have in mind that you are not a machine and you will eventually fall off from the process. But if you set up a good system, it will get you quickly back on track.
The first thing you need is a goal buddy and here we will explain what type of person this is and how to find one.
We will also provide you some tips, depending on if you prefer paper and pen or an app.

Take me to the tools from step 6
Step 7: The Goal Buddy Meetings (aka Goal Reviews)
You've done a lot of work to get here and knowing where you're going to and having your goals plan is great!
But during the road, you will discover that this plan needs to be adjusted. Sometimes even totally changed.
There are two rules for that:
We adjust the plan each 90 days.
We don't change the plan during the next 90 days.
During the 90 days we have to stick with what we have committed to and don't change the plan or the action goals. That is to say, we focus on the actions that need to be taken and avoid as much as possible "analysis-paralysis" situations.
In this step we explain how to perform:
The Yearly goal setting meeting
The Quarterly goal meeting
The Weekly review
The daily goals visualizations (optional but highly recommended)

Take me to the tools from step 7
Final words…
This is a free guide. If you like it and want your friends to be happy and to be able to reach their dreams, please share it.